I'm Claudia Desrosiers, founder and owner of Les jouets Ciboulot, a company born from a desire to see my children grow and evolve in the best possible conditions. The Ciboulot journey began in 2019, when I was pregnant with Victor, my first boy. During my pregnancy, I searched through countless online boutiques selling children's toys, seeking the best for my soon-to-be-born son, but failed to find exactly what I was looking for.
Then one day, I stumbled upon a Facebook post (in French only), Cinq minutes pour jouer/Zoé L. Sirois. The post, which focused on Zoé's vision of what Christmas gifts should be and the importance of ensuring that our children play better by providing them with less, struck a chord with me.
More to the point, what I learned then proved to be pivotal, triggering a clean shift in my vision of learning and a keen interest in everything pertaining to free play. While researching the topic, I got to know Marie-Eve Beaudry, an ardent believer in alternative ways of learning based on free play, versatile and open material and creative play conceived by children.
One thing led to another and I soon found myself dreaming of opening an online boutique featuring games/toys and resting on values that were perfectly aligned with my needs and possibly those of other families. And that is how Les jouets Ciboulot came to be!
The Ciboulot family consists of a group of four: my spouse Frédérik, my two children, Victor and Jules, and of course, myself! Frédérik rallies me and encourages me to keep the company moving forward; he is also both intelligent and curious, and brings highly relevant ideas to the table. I value his help tremendously! My children, in turn, are what drive my creativity. They are the reason why Les jouets Ciboulot was created, and they are also what leads me to continue seeking out information on new ways of doing and less traditional views of education.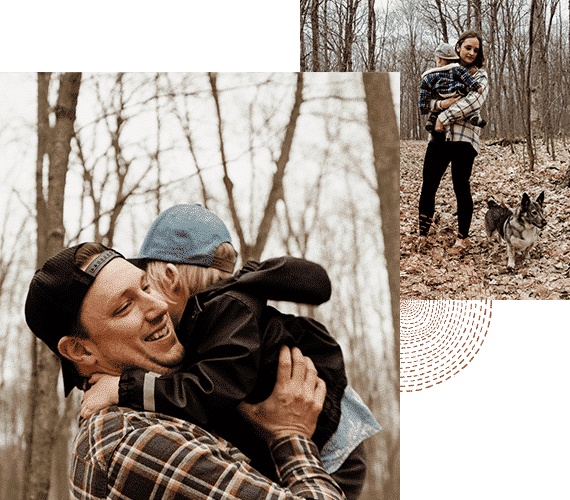 Our precious collaborators, who help us make sound choices every day, are the guiding light in our reflections. They are also members of the large Ciboulot family!
Marie-Eve Beaudry
Marie-Eve, with a degree in special education and childhood education, has been a well-known leader in the home child education field for the past 20+ years. She is passionate about alternative ways of learning based on free play, versatile and open material and creative play conceived by children. Over the years, her experience, lectures and training sessions have enabled her to create educational tools and books to help teachers reflect and introduce practices for creating welcoming, inspiring, warm and meaningful settings as well as a daily pace that are both harmonious and respectful of everyone involved. Her books are now being used in college child education courses and over 600 network practitioners have participated in her virtual workshops. You may want to check out her Facebook page, Chez Manon et Marie-Eve Beaudry, services de garde en milieu familial (in French only), for information on a wide variety of useful resources! Marie-Eve will also sometimes write content for Les jouets Ciboulot blogs.